We pride ourselves on providing a very personalised
and efficient service to our patients.
As a small private practice with no 'vertical' alignment to any manufacturer,
we are able to source devices from a variety of suppliers. This allows us to
recommend and select the most suitable hearing devices based on individual
requirements and suitability for our client's individual needs and budget.
Hearing Aids
There are many styles, types and features of hearing aids to choose from: some are custom made and worn inside the ear – complete-in-the-canal/ in-the-canal (CIC/ITC), others are worn behind the ear behind-the-ear/ receiver-in-the-ear/(BTE/RIE).
We have the latest rechargeable hearing aids which means never having to change a hearing aid battery again thus eliminating the use of small button batteries AND the associated health hazards of these batteries presence (see link for Kidsafe SA & 'Australian Story' link at bottom of this page)
Many devices have bluetooth and wireless connectivity and can be used in conjunction with smart phones, tablets, laptops and even television streaming.
There are many things to consider when choosing a suitable hearing aid (eg. appearance, social activity, management/maintenance, and of course price).
Usually a choice of device(s) will be made at the first appointment. After your initial consultation an appointment will be made to fit your device(s).
Depending on the style of hearing aid(s) recommended we may take an ear impression (if the hearing aid is custom made). The fitting appointment is usually scheduled for approximately two weeks after the initial consultation.
At the time of fitting, your new hearing aid(s) is programmed to suit your individual hearing loss and we teach, coach and cousel you how to use the aid.
Subsequently we review and monitor your progress after about two weeks, and continue to do so until a satisfactory outcome has been achieved.
Batteries and Accessories
We stock a full range of
Batteries (for all the models of hearing aids we supply)
Cleaning Kits
Accessories (such as drying devices, wax guards, tubes & domes etc)
Available from our office or we are able to post any request.
Orders can be placed over the phone (08) 8224 0444, faxed (08) 8224 0488 or emailed to office@adelaideaudiology.com
Noise Plugs / Vocational Noise Protectors
These are custom made ear plugs which are suitable for reducing the damaging effects of noise exposure.
Noise plugs can also be custom made to wear at night time if you have trouble sleeping at night due to traffic noise or a snoring partner!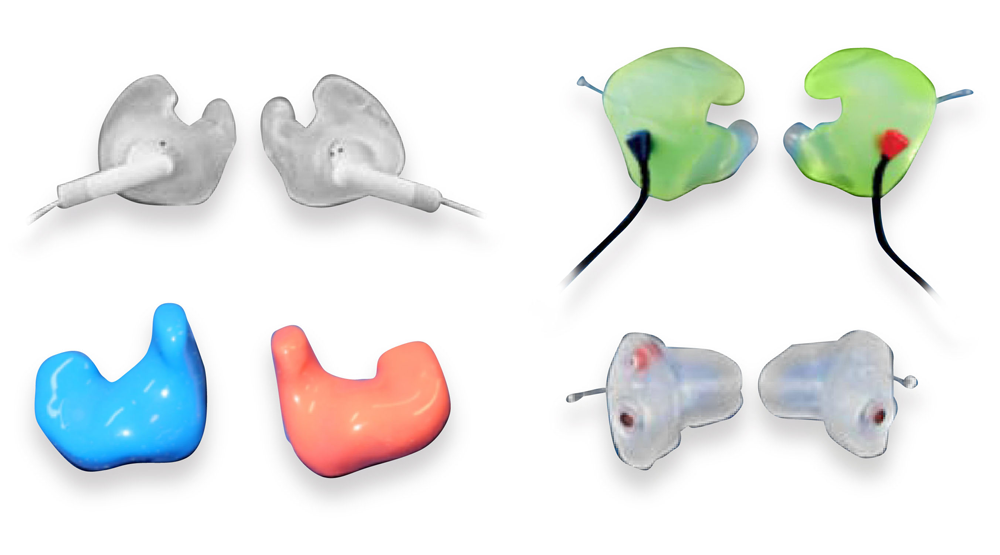 Musician Ear Plugs / In-ear Monitors 
Musicians ear plugs are exactly that. If you play an instrument or are a vocalist, hearing protection is highly recommended.
Hearing loss due to exposure to loud music is irreversible. These plugs are specific to musicians and are available in various attenuation levels.We are also able to take silicon ear impressions that can be sent away and have made in to custom in-ear monitors.
Vocational Hearing Assessments
Contact us to make an appointment if you require a hearing test for work or to renew or apply for your pilot's license, or any other workplace noise pre-employment assessments.
Baseline and monitoring testing is also offered.